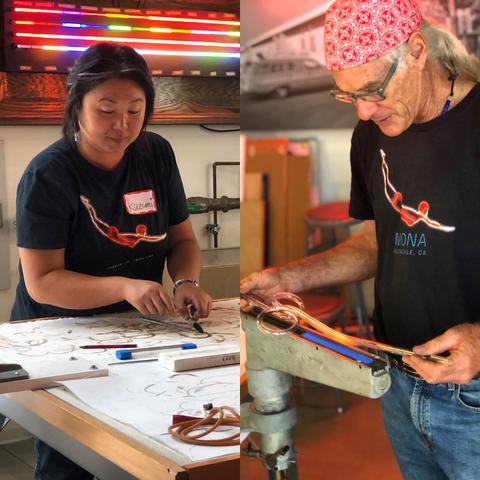 This immersive day walks you through the entire process from glass to glow and each student will head home with an experimental work produced by their very own hands. Students will get into the flames and develop familiarity with the three key bending techniques utilized to construct any lit piece. We will make soft curves with the ribbon burner, right-angle bends on the crossfire, and create splices by joining together two pieces of tubing. For ages 18 and up.
Instructors: David & Kazumi Svenson
David Svenson has been incorporating neon in his sculptural work since the 1980s. Growing up near classic Route 66 neon signage and witnessing the Aurora Borealis in his teens set David on the path of light. Aside from working in his studio, David teaches at the Academy of Art University in San Francisco and has taught at Pilchuck Glass School, Washington State, Corning Museum of Glass, and Urban Glass, as well as teaching workshops internationally. He is an active board member of MONA and works with a team of Alaska Native totem carvers on large commissions.
Kazumi Svenson has been practicing hot glass for over thirty years, often illuminating her creations with Noble Gas and electric discharge. "My passion is glass," says Kazumi. "It can be illuminated by natural light or a light within. Either way, it is my passion." She draws inspiration from folk art traditions and the natural wonders of the world, with a desire to create objects of beauty that inspire human kindness in relation to our environment. For Kazumi, exhibiting and teaching the medium of glass and neon is rewarding as well as necessary to keep the art form alive.
Saturdays
10am – 5pm
$200 MONA Members (Argon level and higher)
$250 all others
CLICK HERE to sign up!
MONA Member Discount: Enter MONAMEMBER at checkout for $50 off your class! (Only one discount per Argon member per class. Helium and higher levels maximum of 2 discounts per class)
Enrollment deadline is 48 hours before the start of the class. In the event you want to be put on a waiting list for a class or you're trying to sign up past the 48-hour deadline, please call us at 818.696.2149 or email us at info@neonmona.org
Cancellation requests must be received 2 weeks before the start date of the class. We reserve the right to cancel the class due to insufficient enrollment, in which case your tuition will be fully refunded.