MONA Family Guide:
Neon In Your Neighborhood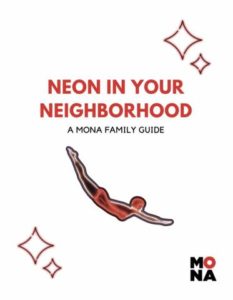 Even when you can't visit the museum, you can transform the world into your very own looking adventure. MONA has created a free downloadable guide for families so that your learning journey can continue even while the museum is closed. Explore your local neighborhood or the world-wide-web and marvel at neon signs. Learn about the science, history, and art of neon, and create your own artworks. In this printable family guide you can add to signs that were illustrated by our talented staff by coloring them in or drawing new details. Your family fun starts now!
---
MONA Light Walks
The museum may be closed, but with MONA as a guide the whole city is a neon wonderland! MONA's own Eric Lynxwiler, who is one of the hosts of our beloved Neon Cruises and a celebrated neon historian, has shared a range of walking/running/biking/driving tours throughout Los Angeles to shake off those quarantine jitters. Bask in lights that have lit the night through some of the darkest times, while enjoying the afterglow of some exercise.
GLOWING GLENDALE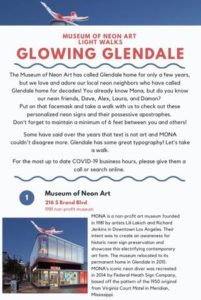 Our first guide, "Glowing Glendale," highlights neighborhood hot spots from the brilliant glow of the Alex Theatre to the hazy view you'll get after a Take-out Tiki cocktail.
Glowing Glendale: Free Download HERE!
---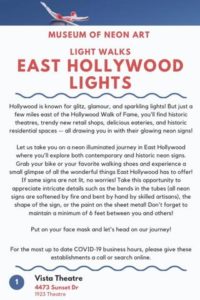 EAST HOLLYWOOD LIGHTS
Next, let us take you on a neon illuminated journey in "East Hollywood Lights" where you'll explore both contemporary and historic neon signs. Grab your bike or your favorite walking shoes and experience a small glimpse of all the wonderful things East Hollywood has to offer!
East Hollywood Lights: Free Download HERE!
---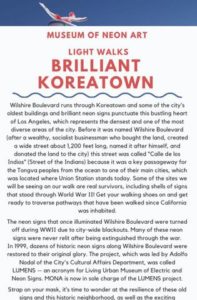 BRILLIANT KOREATOWN
On this self-guided tour of "Brilliant Koreatown," you will walk storied streets and ancient passageways to see buildings and signs from the days when the Oscars were held in the Ambassador Hotel and luminaries like Winston Churchill got a drink at what is now HMS Bounty, but you will also see what a vibrant growing neighborhood K-Town is.
Brilliant Koreatown: Free Download HERE!
---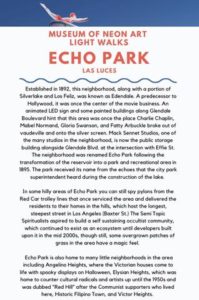 ECHO PARK
Take this self-guided tour of Echo Park and walk the storied streets of this neighborhood established in 1892. A predecessor to Hollywood, Echo Park was once the center of the movie business. Pass by locally beloved spots such as Taix, EchoPlex, Jensen's and more. As you wander through this town, you may even spot the pylons from the Red Car Trolley lines that once serviced the area!
Recently, the Museum of Neon Art removed the House of Spirits signage, which dates from the late 1940s and 1950s, after a part of it had been stolen. The Museum wants to preserve this sign, which has played an important role in the Echo Park landscape for future generations, and hopes to negotiate a new home for the sign in Echo Park, despite sign ordinances and other matters that make mounting a sign as large as House of Spirits challenging. However, history has shown that Echo Park and its community are resilient, imaginative, dreamers who can pave the way for the improbable.
Echo Park: Free Download HERE!
---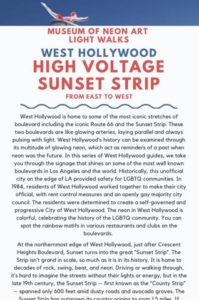 HIGH VOLTAGE SUNSET STRIP
At the northernmost edge of West Hollywood, just after Crescent Heights Boulevard, Sunset turns into the great "Sunset Strip". The Strip isn't grand in scale, so much as it is in its history. It is home to decades of rock, swing, beat, and neon. Driving or walking through, it's hard to imagine the streets without their lights or energy, but in the late 19th century, the Sunset Strip — first known as the "County Strip" — spanned only 600 feet amid dusty roads and avocado groves. The Sunset Strip has outgrown its country origins to span 1.5 miles. If anything, the Strip was born out of convenience: it connected the stars of Beverly Hills to their Hollywood studios. It was always the site of good old Hollywood trouble with casinos, parties, and booze — also convenient that the LAPD didn't have jurisdiction, as West Hollywood was an unincorporated part of the city for another 100 years. This paved the way for the rockers, exotic dancers, the glam scene, and gay scene, and incubated some of the most influential musicians of the late 1960s.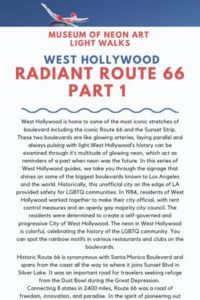 RADIANT ROUTE 66
Historic Route 66 is synonymous with Santa Monica Boulevard and spans from the coast all the way to where it joins Sunset Blvd. in Silver Lake. It was an important road for travelers seeking refuge from the Dust Bowl during the Great Depression. Connecting 8 states in 2400 miles, Route 66 was a road of freedom, innovation, and paradise. In the spirit of pioneering out West, the Pacific Ocean was the oasis at the end of the line. This section of the historical route, and its neon, signify the illuminated optimism of the West. This American roadway has changed quite a bit since its glory days, but the presence of neon signs are remnants of the great automobile voyage.
Radiant Route 66 – Part 1: Free Download HERE!
---
Visual Descriptions
Neon is a full-body experience that engages multiple senses: the pulsing glow of the tubes bathes the viewer in light, the electric buzz and ticking mechanical animators tickle the ears, and sometimes the coronal discharge emitted by high electric frequencies produces a pleasing fragrance. A few people even believe spending time in the presence of neon elevates mood and is beneficial to health.
These visual description resources aim to increase accessibility to MONA's collection for all audiences. They were created so that blind and visually-impaired individuals can experience neon, and so that sighted individuals can take time to deeply consider each visual aspect of a sign or artwork. Through this series of six visual descriptions, you can experience four minutes of bliss as each piece is described in all its glory.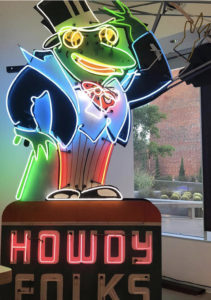 Howdy Folks Frog 
Visual description by Maya Abee
---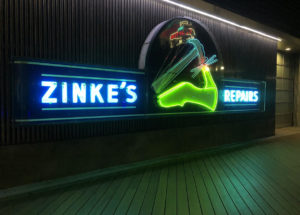 Zinke's Shoe Repair 
Visual description by Ian Berlin
---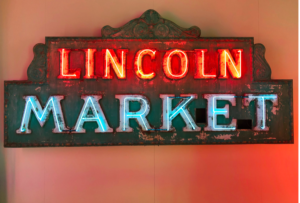 Lincoln Market
Visual description by Ian Berlin
---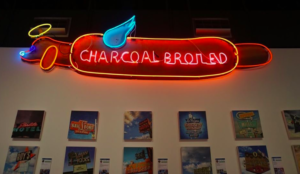 Papoo's Hot Dog Show
Visual description by Kayla Aihara
---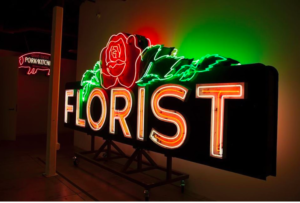 Samuel's Florist
Visual description by Maya Abee
---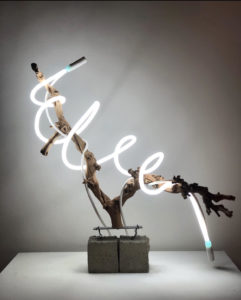 Untitled Mood #7 by Kayla Graffam
Visual description by Kayla Aihara
---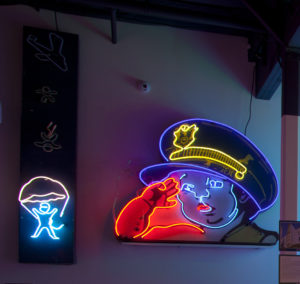 International WarBabies
Visual description by Jereme Lua
---