MONA Family Guide:
Neon In Your Neighborhood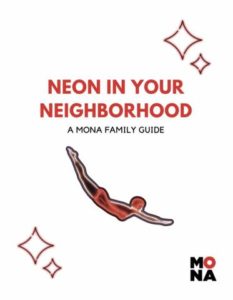 Even when you can't visit the museum, you can transform the world into your very own looking adventure. MONA has created a free downloadable guide for families so that your learning journey can continue even while the museum is closed. Explore your local neighborhood or the world-wide-web and marvel at neon signs. Learn about the science, history, and art of neon, and create your own artworks. In this printable family guide you can add to signs that were illustrated by our talented staff by coloring them in or drawing new details. Your family fun starts now!
---
MONA Light Walks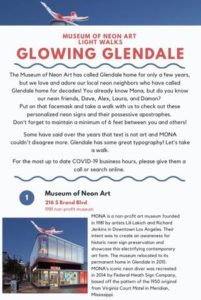 The museum may be closed, but with MONA as a guide the whole city is a neon wonderland! MONA's own Eric Lynxwiler, who is one of the hosts of our beloved Neon Cruises and a celebrated neon historian, has shared a range of walking/running/biking/driving tours throughout Los Angeles to shake off those quarantine jitters. Bask in lights that have lit the night through some of the darkest times, while enjoying the afterglow of some exercise.
Our first guide, "Glowing Glendale," highlights neighborhood hot spots from the brilliant glow of the Alex Theatre to the hazy view you'll get after a Take-out Tiki cocktail.
Glowing Glendale: Free Download HERE!
---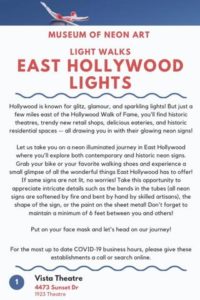 Next, let us take you on a neon illuminated journey in "East Hollywood Lights" where you'll explore both contemporary and historic neon signs. Grab your bike or your favorite walking shoes and experience a small glimpse of all the wonderful things East Hollywood has to offer!
East Hollywood Lights: Free Download HERE!
---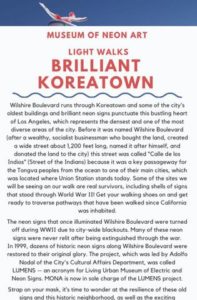 On this self-guided tour of "Brilliant Koreatown," you will walk storied streets and ancient passageways to see buildings and signs from the days when the Oscars were held in the Ambassador Hotel and luminaries like Winston Churchill got a drink at what is now HMS Bounty, but you will also see what a vibrant growing neighborhood K-Town is.
Brilliant Koreatown: Free Download HERE!
---