Sign up for our newsletter to find out what's happening at MONA:
Handcrafted Metalwork and Neon Screens Illuminate MONA Windows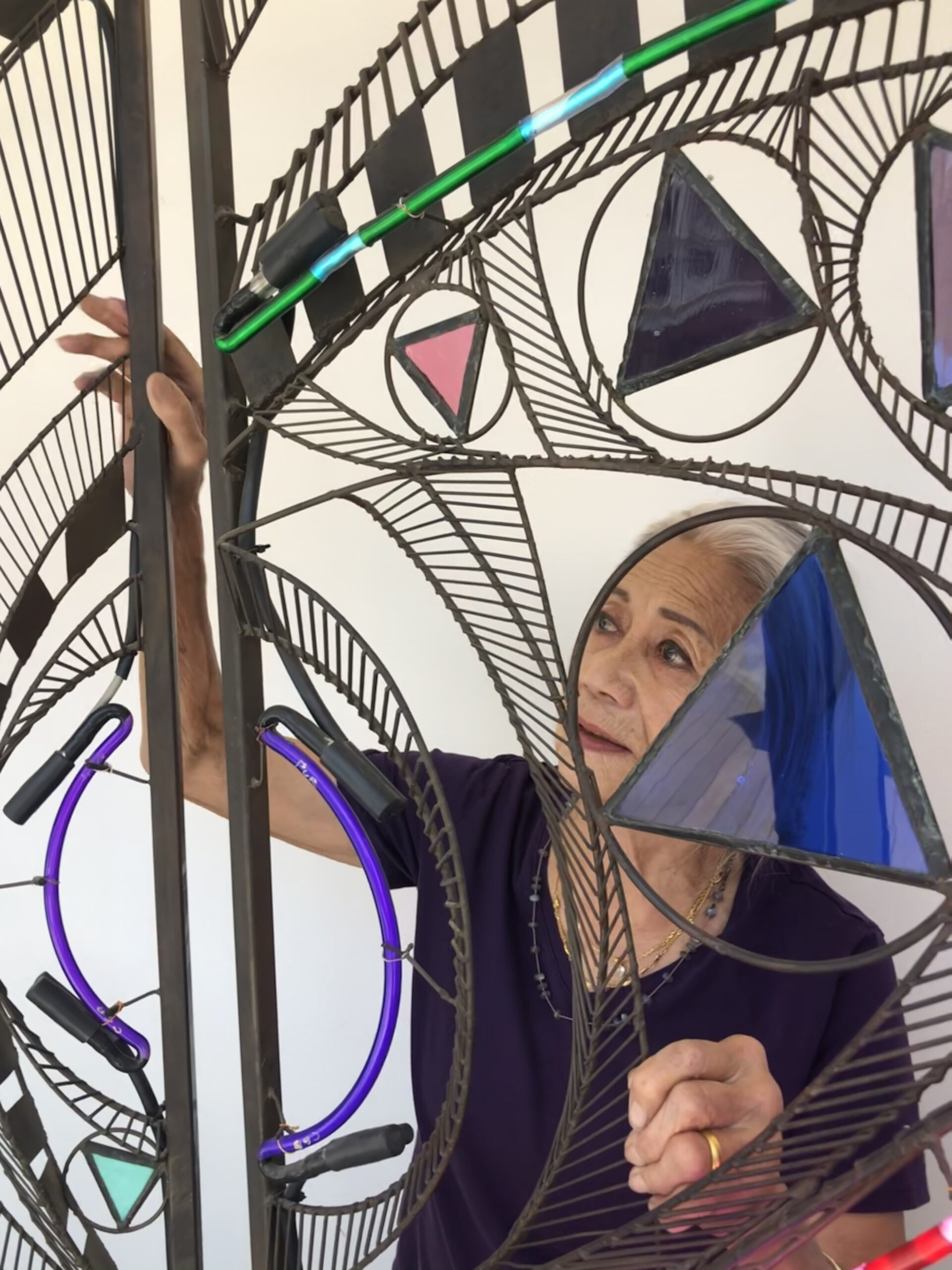 June 14, 2021 – Through her metalwork and neon, Tessie Dong creates elegant and rhythmic compositions that play with weight, delicacy, and light. The screen and chair displayed in the Museum of Neon Art's windows are composed of undulating curves and circles that unify, but also complicate, a composition in stained glass and neon glass, both hand-bent and blown. Since the 1970s, Dong has created multimedia artworks ranging in scale from a few inches up to 40 feet with materials such as steel rods, patinated sheet metal, paint, stained glass, textile, and neon.
Tessie Dong was born in Canton, China. She moved to Arizona as a teenager and received an Associates of Art from Eastern Arizona College and later moved to Los Angeles for further study. She received her education at Art Center College of Design, specializing in commercial illustration. After photography grew in prominence as an advertising medium, Dong pivoted from illustration to work in architectural model building. This attention to space and proximity to architects led her to propose monumental works, designed with architecture in mind. She conceived of and created large-scale architectural installations for banks, restaurants, tennis clubs, synagogues, and private homes. The media she has used ranges from batik canvases to painted dimensional murals to multimedia sculptures. She is a skillful welder and glassblower who hand-makes each element in her work, embracing the transformative capacities of color, light, and material.
"I had to learn how to bend neon tubes in order to add them to my metalwork so it's integrated in the whole," Dong states. "My work is about interplay of space and form, of natural lines and industrial materials, of harmony and tension – it's sometimes hard to delineate where my pieces start and stop and where work and life intersect. There is nothing about my world that is not part of a vast composition: my garden, my house, my studio, my life. They reflect the same symbiosis of organic chance and composition which typifies my evolving work."
Tessie Dong's work has been exhibited internationally and she has participated in several museum exhibitions. Her work is held in various private and corporate collections. Dong's 20-foot tower Enlightenment is permanently installed at the Chinatown branch of the LA Public Library. "My art is a continual process," says Dong. "My goal is to design and create multi-media works for public and private spaces to enhance human communication through artistic media. I grow with each project and then apply my extended experience to each future work." Though Dong's installation in MONA's windows can be seen and appreciated all day long, the best time to view it is at dusk or after nightfall. The exhibition will be on display until December 31, 2021.
"40 Years of Light" Group Exhibition Celebrates MONA's 40th Anniversary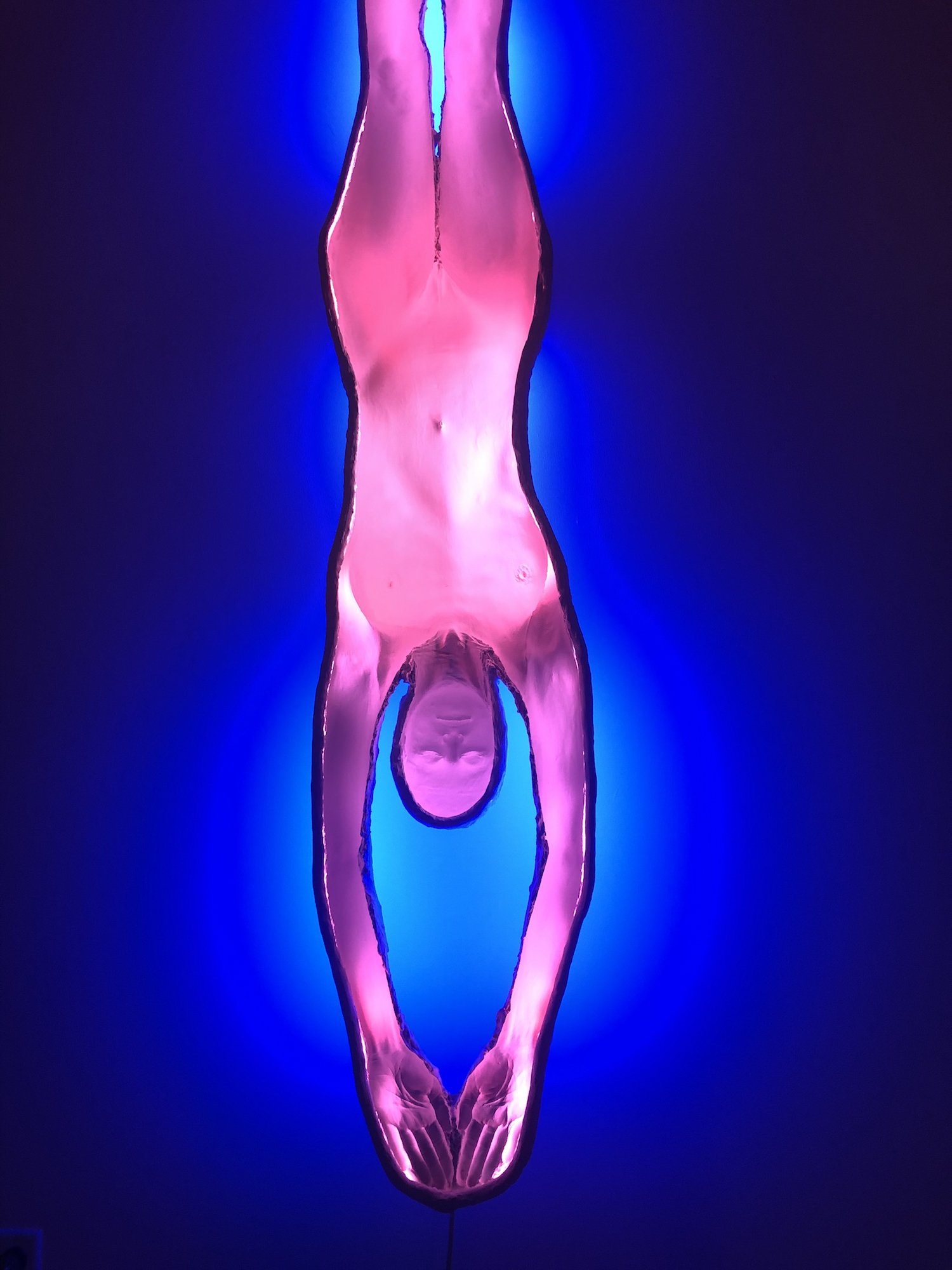 June 7, 2021 – The exhibition 40 Years Of Light: Works From The MONA Collection & Collective features 16 artists who create sculptural, kinetic, and atmospheric works that engage light. For the past 40 years, the Museum of Neon Art has been a haven for artists who valued experimental approaches toward luminous, electric, and kinetic artwork. The exhibition shares about the reemergence of neon art in the 1970s and the role artists who exhibited at MONA played in the canon of luminous artwork. When MONA was founded in Los Angeles in 1981, it was the only museum dedicated to preserving neon, electric, and kinetic art. In a time when the city was losing its glow and neon sign shops were losing their customers, the museum aimed to protect neon as a form of both vernacular art and fine art. Now in the museum's 40th year, neon is seeing a new renaissance. Contemporary artists, benders, craftspeople, and enthusiasts see the light and honor the skill, craftpersonship, and historic legacy of this unique art-form.
This exhibition displays artworks from the 1980s through 2020 and honors the range of approaches toward light. Artwork by community members who continue to shape MONA's vision and push toward experimentation are exhibited alongside works from the museum's permanent collection. The exhibition illustrates neon's dynamic and varied legacy, as well as the ways that MONA itself represents a sum of the contributions of its vibrant community.
MONA continues to exist as an artist-run museum made strong by each unique individual who has shared threads of their light and vision to make a bright path forward for critical thought, experimentation, and artistic innovation. The exhibition runs through September 25, 2021, and showcases works by artists Brian Coleman, Candice Gawne, Cork Marcheschi, Craig Kraft, David Otis Johnson, David Svenson, Eric Zimmerman, Kunio Ohashi, Linda Sue Price, Maurice Gray, Michael Flechtner, Ray Howlett, Shun-Lo Huang, Stephen Antonakos, Wayne Strattman, and William Shipman.
MONA Honors the Victims of the Armenian Genocide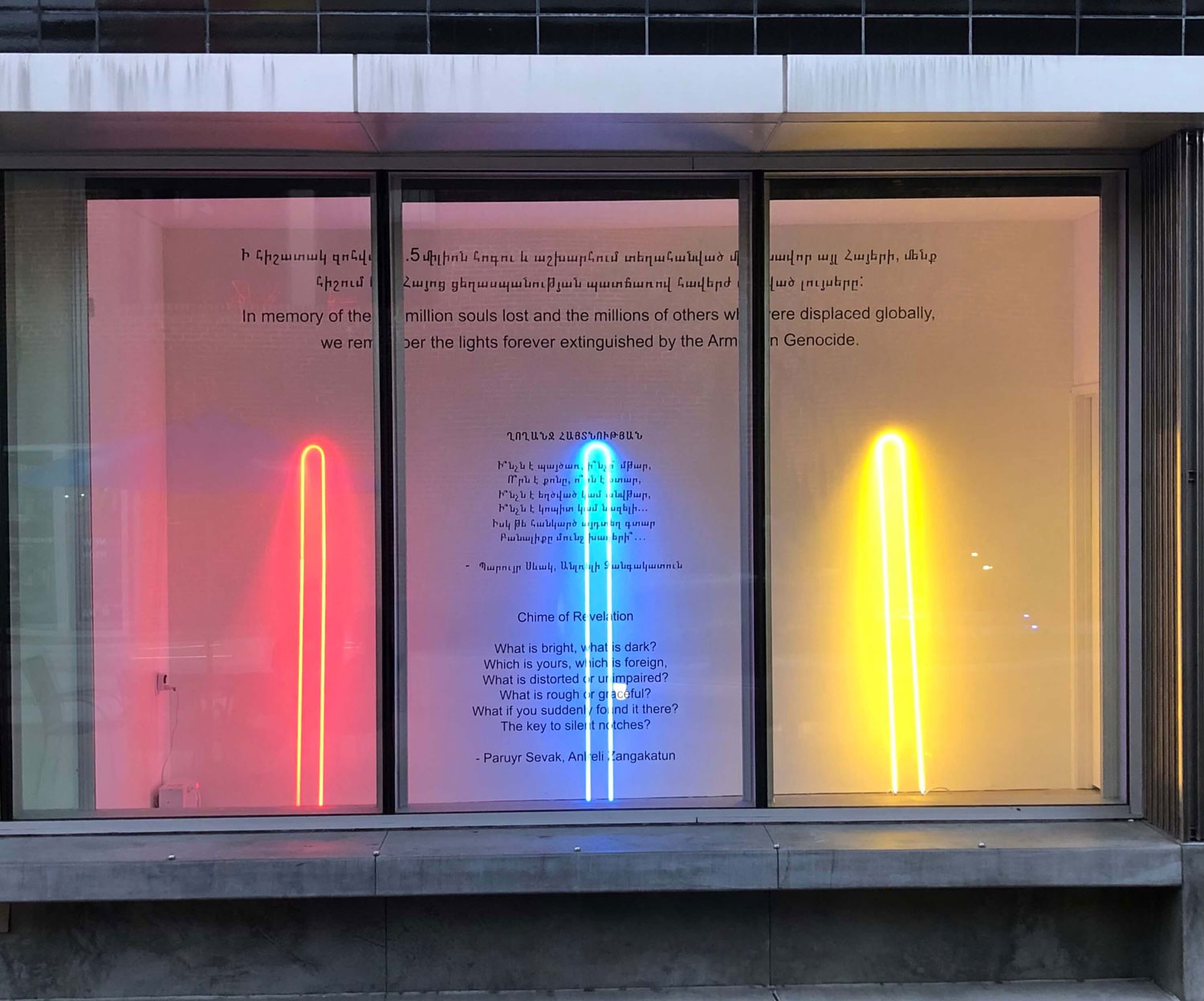 April 8, 2021 – Throughout the month of April, the Museum of Neon Art will display a new window-based public display in honor of Armenian History Month. The exhibit presents an excerpt of a poem in Armenian and English under neon lights representing the Armenian flag; it faces the paseo in front of the museum and will be best viewed when the sun sets. The exhibition was created by MONA and Leaf Cutter Studio.
This April 24th will mark the 106th anniversary of the Armenian Genocide perpetrated by the Ottoman Empire. Visitors will have the opportunity to pause for a moment of silence in honor of the 1.5 million Armenians massacred during the Armenian Genocide and the millions of others who were orphaned and displaced globally as a result of the state-sanctioned massacres.
The display features the tricolors of the Armenian flag: red, a symbol of sacrifice and will to survive; blue for the blue skies of the ancestral homeland under which Armenians dream to live peacefully; and orange, for the fields of the Armenian Highlands and the hardworking nature of the Armenian people. Accompanying the neon flag is a verse from Armenian poet Paruyr Sevak's book of poems, Anlreli Zangakatun, in Armenian and English.
"Anlreli Zangakatun literally translates as the bell tower that is incapable of being silenced. Bells and bell towers are a call to action or a warning of danger ahead, but they fall silent when the call to action is over, or the danger has passed. In this case, the bell tower represents the inability to stay silent because the call to action – the call for justice – has not yet been concluded," says MONA's Curator of Engagement and Education, Ani Mnatsakanyan.
Read the full press release HERE
New Exhibition "Proof Through The Night" Now on View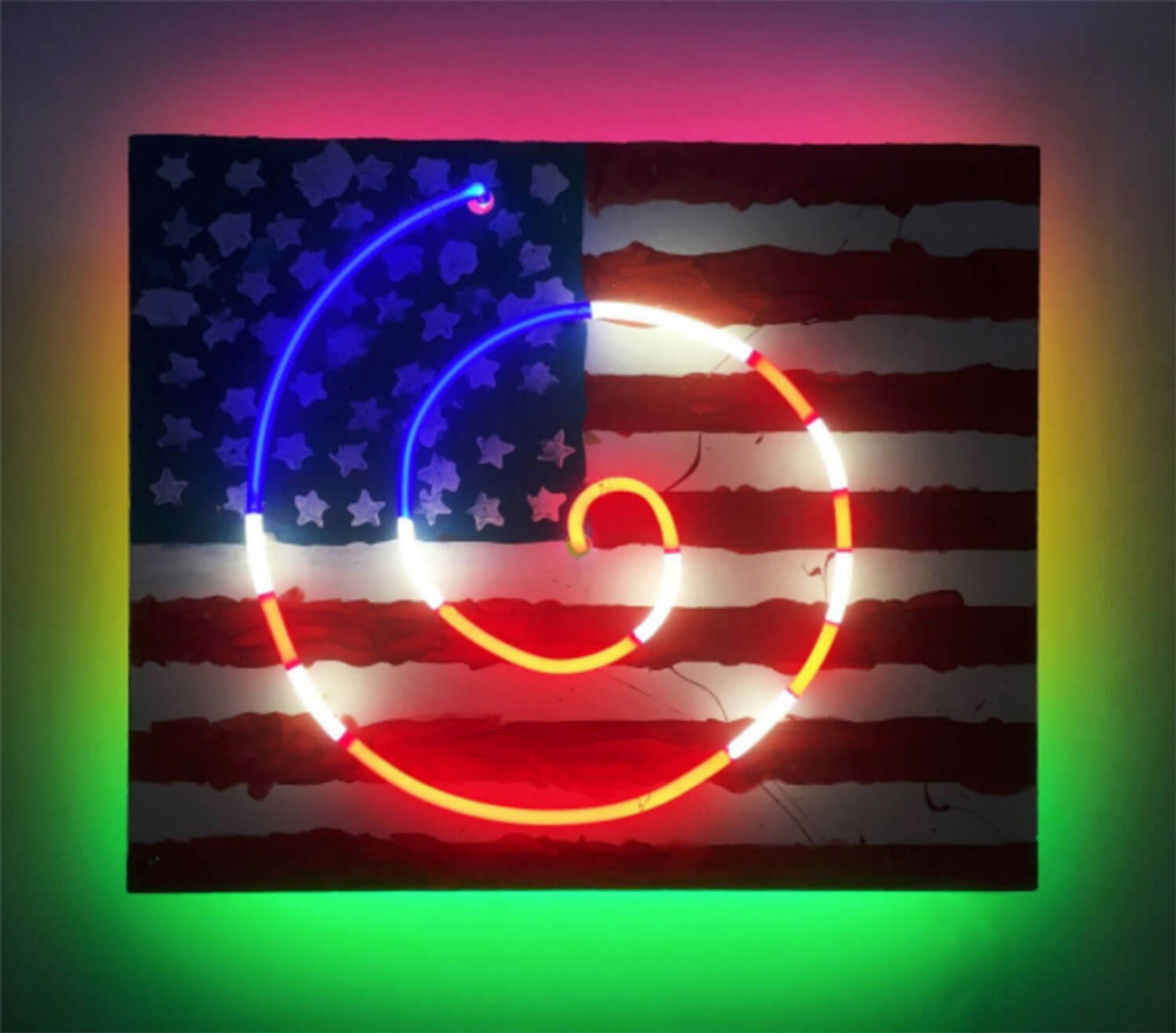 February 18, 2021 – The Museum of Neon Art is pleased to share its latest window-based exhibition Proof Through The Night with the public. The exhibition, which faces onto the paseo walkway and is best viewable from 6pm-midnight, features three works that explore the symbolism of the American flag. The title for the exhibition quotes Francis Scott Key's 1814 poem "Defence of Fort M'Henry," which became the song "The Star Spangled Banner." The poem recalls the Battle of Baltimore in 1812, and uses the flag as a central symbol for the uncertain fate of the United States, as well as its eventual victory. Since the song was established as the national anthem in 1931 it has served as a backdrop for American pomp, pride, and protest. In November 2017, the California Chapter of the NAACP called on Congress to remove "The Star-Spangled Banner" as the national anthem, due to the third stanza of the song which refers to slavery.
Proof Through The Night shares three distinct approaches to the flag and honors the range of experiences and perspectives that are woven into the symbolism of the American flag and experience. Viewers will see a mixed media lightbox of an altered parade photograph by Kathie Foley-Meyer, a wheelchair emblazoned with a political bumper sticker, draped with a a flag and neon under fiberglass by William Shipman, and a hand-painted flag on corrugated metal serves as the background for a swirl of neon light by Shion Svenson.
"Kathie Foley-Meyer, William Shipman, and Shion Svenson's works illuminate the flag as a complex and multivalent icon of the American experience. Their work crosses media, generations, and backgrounds. Proof Through The Night addresses the uncertainty of our current political climate through light. The title of the exhibition serves as a reminder of past uncertainties as well as the complicated and fulgid role of symbols as tools of possibility and power," says MONA Executive Director Corrie Siegel.
Read the full press release HERE!
2020 in Review
A look back on what you helped us accomplish this year. We are so grateful you helped us survive into 2021!
Help Plant a "Sign Garden" at MONA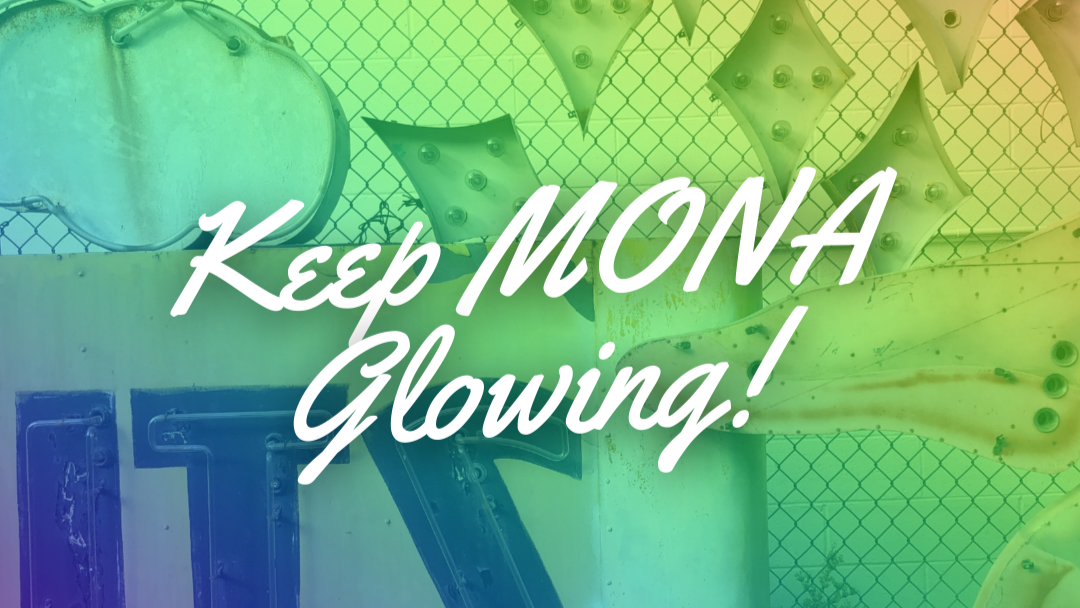 December 1, 2020 – On "Giving Tuesday", the Museum of Neon Art launched a crowdfunding campaign for an outdoor exhibition space that will showcase historic California neon signage. The "Sign Garden" is currently being installed in the Museum parking lot, and will feature illuminated neon signs as well as a behind-the-scenes peek at signs undergoing restoration.
This open-air gallery will provide a COVID-safe way for MONA to share its growing collection and create an iconic new Los Angeles destination.
It will also provide a lifeline for the Museum while all indoor LA County museums must remain closed to the public. Though MONA welcomes smaller donations, supporters who give $150 or more will be recognized with their own shimmering plaque.
Read the full press release HERE!
Walk With Us: Neon Night Walks
November 7, 2020 – It has been nearly 8 months since MONA has been closed to the public, so it is inspiring to gather with you on the streets and sidewalks of our beloved neighborhoods to weave community stories and histories under the warm glow of neon signs that guide our way. On our "Neon Night Walks", we have discovered signs hidden in plain sight and lost histories of Los Angeles while enjoying a good stroll with our masked, socially-distant friends.
It has also been a delight to join you in your living rooms and home offices to share digital tours and stories. Our community of radiant supporters have tuned in from Germany, San Francisco, New York, and Los Angeles, among many other places. Thanks to you, MONA continues to grow and experiment, despite the big challenges we face during closure. We are working to expand our tours into many new neighborhoods, and we can't wait to share them with you!
Wings A-Light and Selfies Take Flight at MONA: Sharing Light and Hope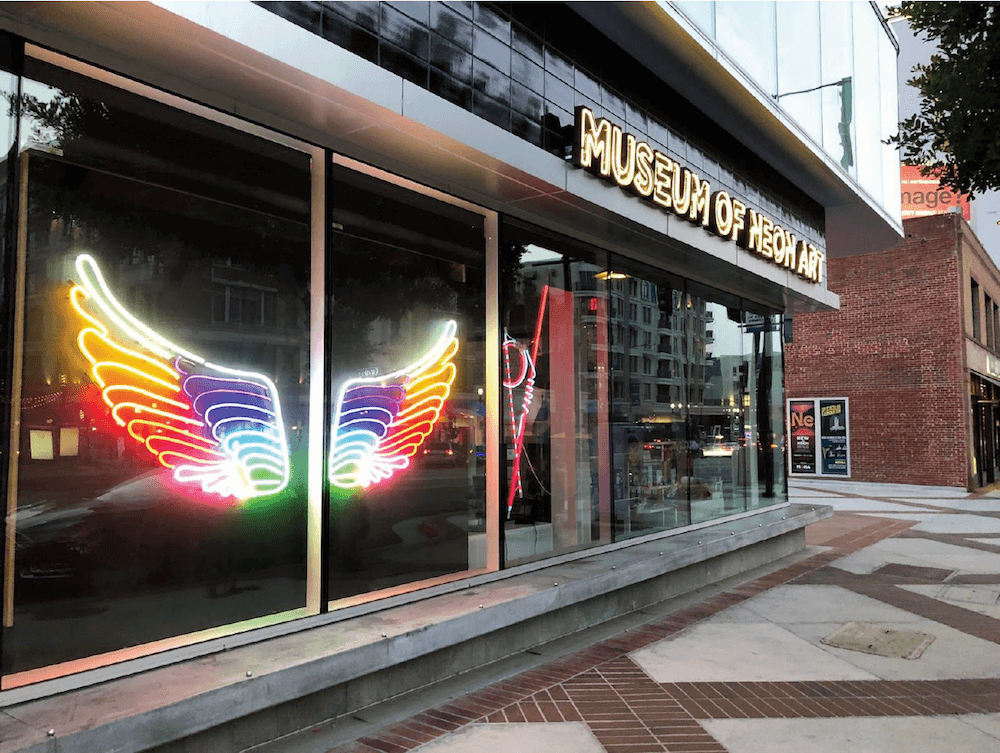 November 5, 2020 – This week, MONA installed a neon sculpture of glowing rainbow wings facing out of the Museum's front window onto Brand Boulevard, the main thoroughfare in Downtown Glendale. The wings, which were donated to the Museum by event producer Relevé Unlimited, are intended to forge points of connection and interaction with MONA's growing audience at a time when the Museum is mandated by the County of Los Angeles to remain closed. As a public artwork, the wings will provide an inspiring message in dark times, reminding passersby that they are powerful, and that art can transform those in its presence. The wings will shine from 6:30pm–2am nightly.
"The Museum of Neon Art welcomes community members to tag the museum on social media and share something that gives them hope in this moment.
The Museum looks forward to collecting and sharing these stories with our audience," says Corrie Siegel, Executive Director. "Though our doors are closed to the public, we are brightening our windows and our social media feeds to connect with our community. We hope that the neon wings provide a playful addition to Brand Boulevard, as well as a new way for the public to interact with parts of the MONA collection."
Read the full press release HERE!
House of Spirits Sign Saved for Future Generations of Echo Park Residents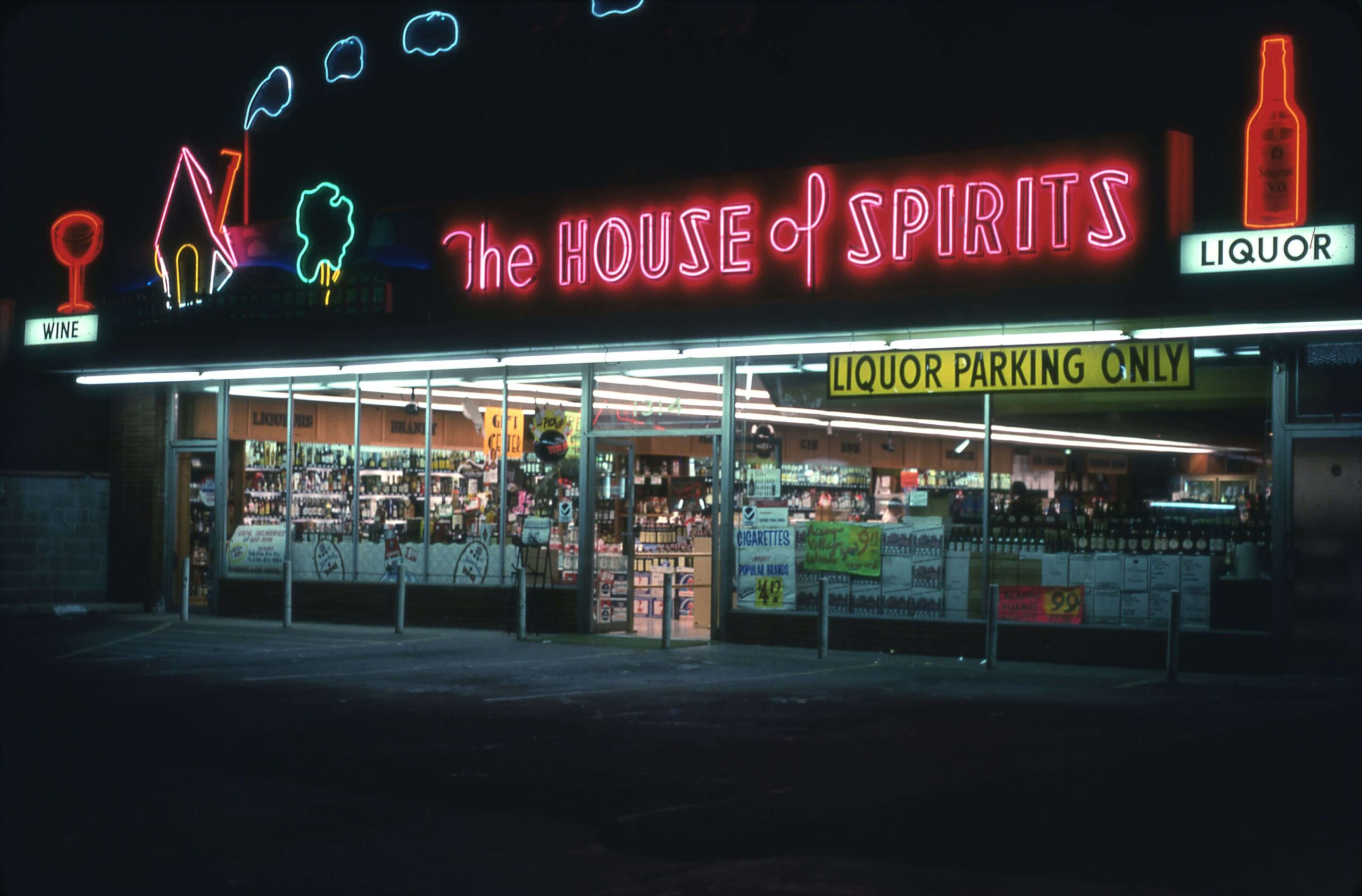 July 1, 2020 – Today the Museum of Neon Art began removing the House of Spirits signage and transporting it to our facilities for safekeeping and repair. The need to work quickly became clear after theft of some portions and escalating threats to the sign, which is attached to a building that was irreparably damaged by fire in December 2018. The sign was donated to MONA in order to preserve this iconic landmark; however, the Museum intends to return the sign to the Echo Park neighborhood as soon as a suitable new home can be found.
MONA wants to preserve this unique and historically significant sign to share it with future generations and teach about the rich history of Echo Park.
We are in the process of collecting stories about the family business and the community it served, because we believe these stories are as valuable as the sign that they are connected to. During the restoration process, MONA will share updates and offer special programming for Echo Park residents while the sign is on our premises.
Read the full press release HERE!
Circus of Books: A Beacon to the LGBTQ Community Will Glow Again
June 15, 2020 – MONA is proud to announce we are the new caretakers for the Silverlake Circus of Books Sign. Circus of Books was a gay bookstore and adult shop that operated in West Hollywood and Silverlake. For generations of gay men, the Circus of Books sign was a symbol for a store, gathering place, cruising spot, and resource to the community. The mom-and-pop business was established in 1982 by Karen and Barry Mason, and survived the AIDS crisis, censorship wars, and multiple recessions until its closure in 2016. MONA thanks the Masons for their donation and the indelible contributions they have made to Los Angeles and the LGBTQ community.
"The Museum of Neon Art has saved numerous signs from across Los Angeles, the county it calls home, yet the Circus of Books neon sign is the first piece in what we hope is a growing collection of neon signs representing LGBTQ culture and history," says J. Eric Lynxwiler, President of MONA's Board of Trustees. "The Circus of Books neon sign is important to many, not just because of recent memory, but because of the bookstore's place as a safe haven for many generations of the LGBTQ community."
Read the full press release HERE!
MONA Brings Pseudo-Science to Light: The UV "Cure"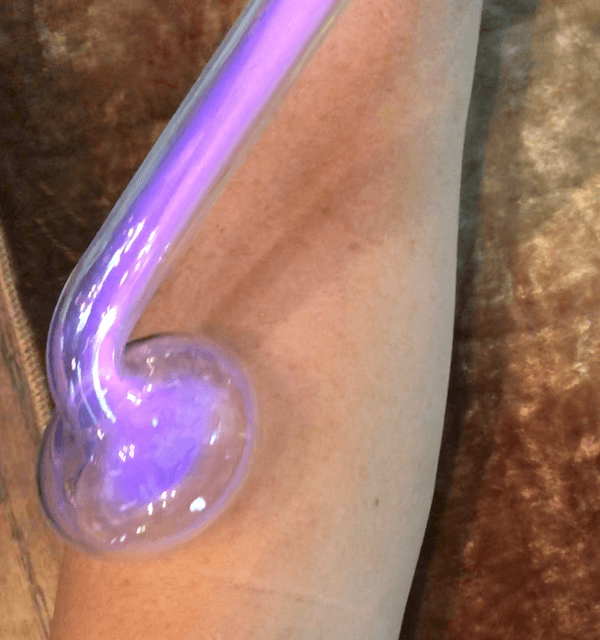 April 25, 2020 – When President Trump recently suggested that the internal use of disinfectant and ultraviolet (UV) light could be helpful in treating COVID-19, it left disinfectant companies scrambling to issue statements pleading with consumers not to ingest their product.
The UV comments, on the other hand, sounded very familiar at MONA, since light and electricity have been the focus of both appropriate and inappropriate, effective and ineffective therapeutic treatments for centuries.
Dydia DeLyser, Associate Professor of Geography at CSU Fullerton and Secretary of MONA's Board of Trustees, and Paul Greenstein, neon sign designer, builder, installer, and restorer, share their fascinating neon knowledge:
Introducing Corrie Siegel, Executive Director
April 1, 2020 – The Museum of Neon Art is thrilled to announce that, after a year-long public search, Corrie Siegel has been selected to serve as Executive Director. Siegel brings to MONA twenty years of experience working to empower and engage communities through the arts. Her experience as a gallery director, exhibit curator, museum educator, museum administrator, and artist provides her with a solid foundation for the role.
Siegel has taken over fully from Kim Koga, who retired from her post of 20-plus years in July 2019. MONA is grateful for the leadership of Interim Director Laura Darlington in this time, as well as the visionary leadership of Koga over the past two decades as we look forward to a new chapter. Siegel embodies values that MONA represents – creativity, curiosity, community, and preservation. As Executive Director, Siegel will work to deepen community connections to MONA, support new artistic production and experimentation, and safe-guard historic signage and art through new educational, artistic, and funding initiatives.
Read the full press release HERE!
SIGN UP FOR OUR NEWSLETTER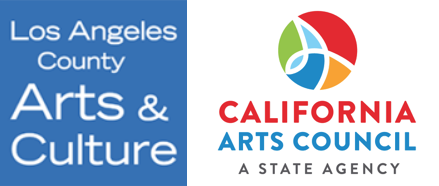 Support generously provided by Los Angeles County Department of Arts & Culture. School Engagement programs are supported in part by the California Arts Council, a state agency. Learn more at www.arts.ca.gov.