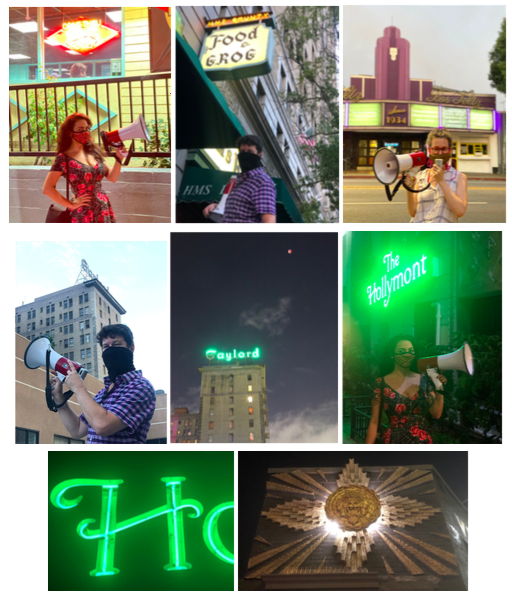 NEON NIGHT WALKS
MONA's knowledgeable tour guides weave light-filled tours through Los Angeles county neighborhoods. Limited to 15 participants, the walking tours are a way to see Los Angeles in a different light. Masked, socially-distanced participants will learn about the history of neon and local neighborhoods on a safe outdoor tour. Special online tour experiences will also be offered for those interested in exploring the city from home. MONA will lead hour-and-a-half long walking tours in Glendale, Koreatown, Hollywood, Downtown LA's famous Broadway Theatre District, Chinatown, and more. Guests will be able to explore the areas' architectural history, guided by the soothing glow of its neon signs.
The Neon Night Walks are inspired by MONA's Neon Cruise, an iconic program MONA has been offering for 35 years which takes place on an open-top double-decker bus. Due to Covid-19 health concerns, the 2020 Neon Cruise season was canceled, giving MONA the opportunity to experiment with a shorter guided walks series. The walking tours will provide guests a unique opportunity to see our built environment through a more intimate neighborhood and community lens. Similar to MONA's themed cruises, the walking tours will feature specially-themed walks, including a spooky Halloween tour, a festive Holiday neon wonderland walk, and more.
CLICK HERE to book your tour today!
NEON CRUISE®
JOIN US for a nighttime double-decker bus tour of historic neon signs and permanent installations of contemporary neon art through downtown Los Angeles and Hollywood!
Developed by MONA in 1985, the narrated tour departs from the Historic Corridor of downtown and points out neon's historic and aesthetic dimensions, placing them firmly within the context of 20th-century Los Angeles cultural history.
From the classic movie marquees of downtown L.A.'s theater district, to the glittering lights of Hollywood, to the glowing pagodas of Chinatown, you will see innovative electrical advertising as well as outstanding examples of contemporary art on this award-winning tour.
Jump on board the upper deck of a convertible British bus and let your knowledgeable guide delight you with history and anecdotes from the urban electric jungle.
MEET THE GUIDES: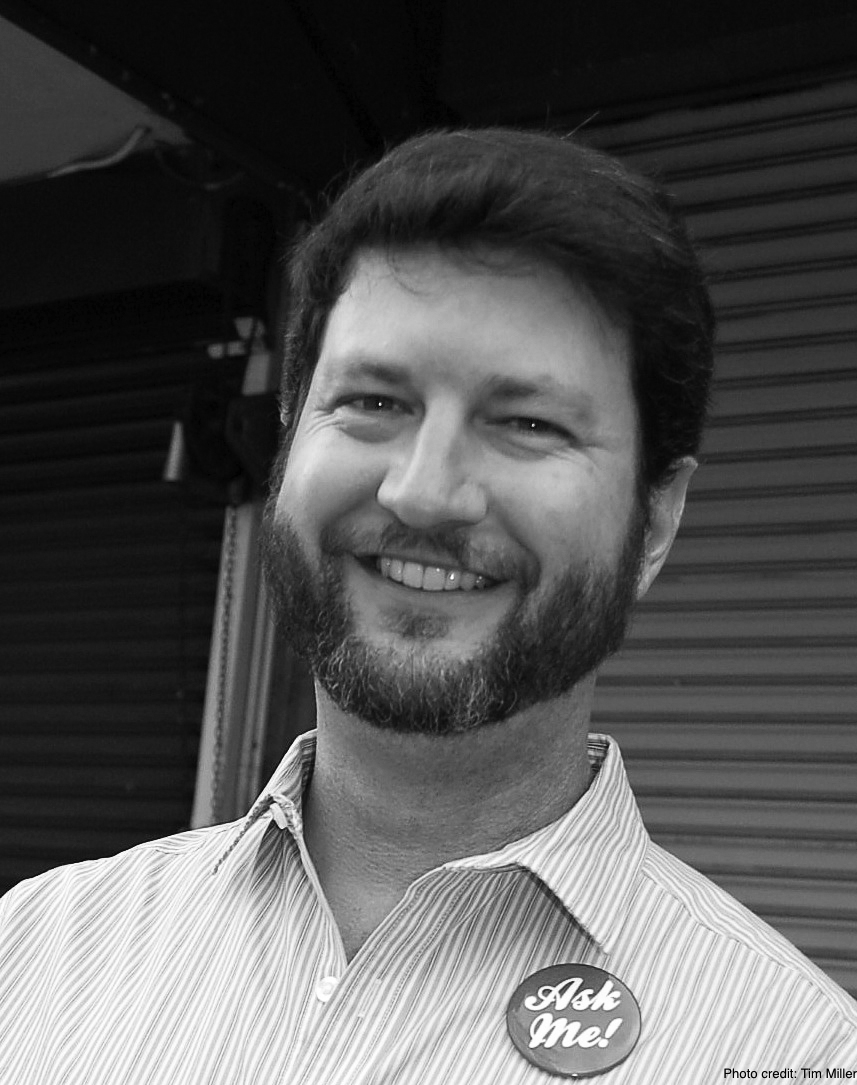 J. ERIC LYNXWILER (Classic Neon Cruise, Private Neon Cruise) is an L.A. native and long-time docent for the Los Angeles Conservancy and Art Deco Society of Los Angeles. As Board President for the Museum of Neon Art, he continues to celebrate LA's neon heritage and guide the museum's famed "Neon Cruise" — now in his eighteenth year! Lynxwiler researched the book "Wilshire Boulevard: Grand Concourse of Los Angeles" and co-authored "Knott's Preserved: From Berry Stand to Theme Park, The History Of Knott's Berry Farm" and "Spectacular Illumination: Los Angeles Neon 1925–1965."
Cruise Highlights: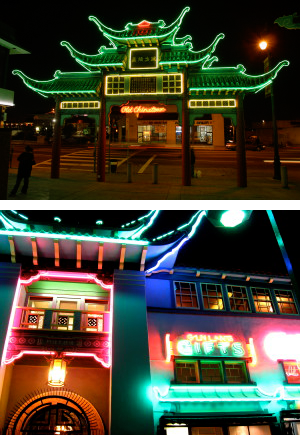 CHINATOWN GIFT FAIR CHINAWARE
The unassuming 1940s and 1950s set of neon signs are original to LA's Chinatown and were added by various shopkeepers over the years, but were removed by a long-running tenant who donated the signs to the Museum of Neon Art. The duo was welcomed into the museum collection, but was only there for a few years until the building's new owner restored the structure's architectural and rooftop neon. With trust in the more neon-friendly owner, the museum de-accessioned the Gift Fair Chinaware neon signs and returned them to their original perches over Gin Ling Way in LA's Chinatown.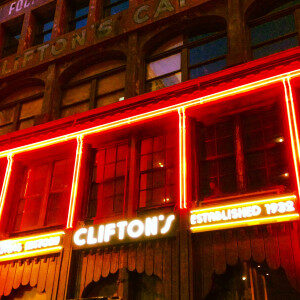 CLIFTON'S FACADE
2015 brought neon lighting back to the restored façade of Clifton's Cafeteria. It mimics the original neon pinstripes from the 1930s while also celebrating what turned out to be a historic discovery in the building's basement – what could possibly be the world's oldest operating neon tubes. Hidden behind a false wall and hardwired into the building's electrical system, the secret neon tubes date to 1935 and have never been turned off in that time. The building's owner plans to move the vintage tubes to a more public location.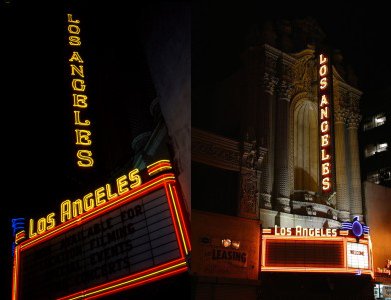 LOS ANGELES THEATRE
Arguably the most grand theatre on the West coast is the namesake of the city, the Los Angeles Theatre. The ornate structure opened on the eve of the Great Depression in 1931 with a filigreed, neon vertical sign and matching, grand marquee. Over the years the marquee was replaced with a more streamlined, window-box-style sign with a prominent clock at it crux. The Broadway Theatre District has gone through its share of ups and downs, but the Los Angeles Theatre is still a grande dame and its neon vertical sign and marquee again shine brightly thanks to the 2004 restoration by the Museum of Neon Art and the City Redevelopment Agency.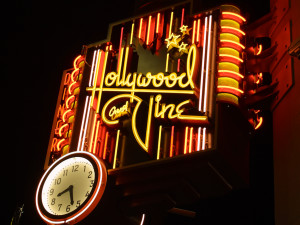 HOLLYWOOD AND VINE RESTAURANT
The fancy Hollywood and Vine neon sign once promoted a restaurant within the Equitable Building, but that restaurant is now long gone. The modern neon with working clock and glittering stars once pronounced the word Diner, then Bar and now Lofts as its premier, promotional function changed with time. Don't ignore the miniature, animated-neon Capitol Records building topping the sign.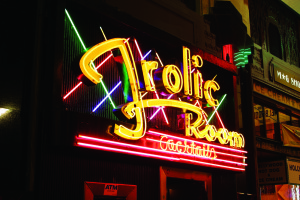 FROLIC ROOM
One of the great bars from Hollywood's Golden Age still haunts the corner of Hollywood near Vine in the 1930 Pantages Theatre building and its iconic neon sign has never burned more brightly. Stylistically, the design is a visual cacophony with multicolored neon tubes as a background for the streamlined lettering and boomerang design of its connected F and R. For those who believe that lettering cannot be art, we point to the Frolic Room's amazing neon signage every time.
CLASSIC NEON CRUISE:
Saturday, May 20, 2023
Saturday, June 17, 2023
Saturday, June 24, 2023
Saturday, July 8, 2023
Saturday, July 22, 2023
Saturday, August 5, 2023
Saturday, August 19, 2023
Saturday, September 9, 2023
Saturday, September 23, 2023
Saturday, October 7, 2023
CLICK HERE to book today!
*In your shopping cart, please enter a CELL PHONE NUMBER where you can be reached on the evening of your cruise.
MONA MEMBER DISCOUNT:
Enter NEON at checkout for $10 off 1 Classic Neon Cruise Ticket.
Enter ARGON at checkout for $10 off 2 Classic Neon Cruise Tickets.
Enter NEONMERCURY at checkout for $10 off 3 Classic Neon Cruise Tickets.
Enter HELIUM at checkout for $10 off 3 Classic Neon Cruise Tickets.
Enter KRYPTON at checkout for $10 off 4 Classic Neon Cruise Tickets.

Please email bweber@neonmona.org to redeem your
2 FREE PLASMA tickets or
4 FREE XENON tickets + unlimited member discount tickets.
All memberships will be verified.
Want to become a member?  Click Here.
You will receive a reservation confirmation email from the museum with detailed instructions on the exact meeting location.
Cruises usually meet at 7:00PM in DOWNTOWN LOS ANGELES and return around 10:30PM.
Due to limited seating on the bus, requests for cancellations or transfers must be made TWO weeks prior to the selected cruise date.
MONA reserves the right to cancel the tour due to insufficient ticket sales, in which case your ticket will be fully refunded.
MONA is a 501(c)(3) non-profit organization.
FOR MORE INFORMATION, TO RESERVE BY PHONE, OR TO BOOK A PRIVATE TOUR CALL 818-696-2149