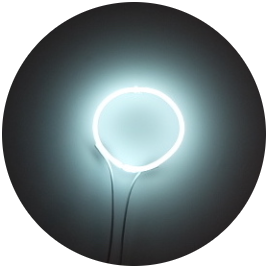 In this 4-hour beginners' workshop, embrace the basics of neon fabrication by bending the simple – yet oh, so complex – shape of a circle. Students will get in the fire to form a unique piece with assistance from instructor Kacie Lees. You'll leave with a glowing nebulous form, a full moon shaped by your very own hands. For ages 18 and up.
Instructor: Kacie Lees is an American interdisciplinary artist based in New York. Recognized for her distinctive installations and layered videos, Lees' perceptual works center around transcendental environments, bringing together disparate elements in a subtle yet consistent effort to show that everything is connected. Lees first learned neon while studying sculpture and video at The School of the Art Institute in Chicago. Later, she taught neon at Brooklyn Glass after receiving her MFA from the School of Visual Arts in New York. Light and the intangible are common themes in Kacie's work and she uses neon to explore them both.
Date TBA
$300
CLICK HERE to sign up!
MONA Member discount is not available for this workshop. Enrollment deadline is 48 hours before the start of the class. In the event you want to be put on a waiting list for a class or you're trying to sign up past the 48-hour deadline, please call us at 818.696.2149 or email us at info@neonmona.org
Cancellation requests must be received 2 weeks before the start date of the class. We reserve the right to cancel the class due to insufficient enrollment, in which case your tuition will be fully refunded.