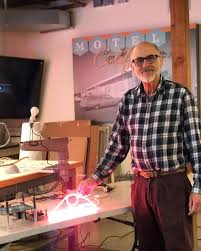 Friday, July 12, 2019
4pm – 7pm
Ever wondered how neon gets its color?
Where do noble gases come from?
How do you bend the glass for neon?
How much voltage is needed to power a neon sign?
Stuart Ziff returns to MONA to answer all of your burning questions – from beginner to advanced – about neon signs, noble gases, and more, plus a neon bending demonstration!