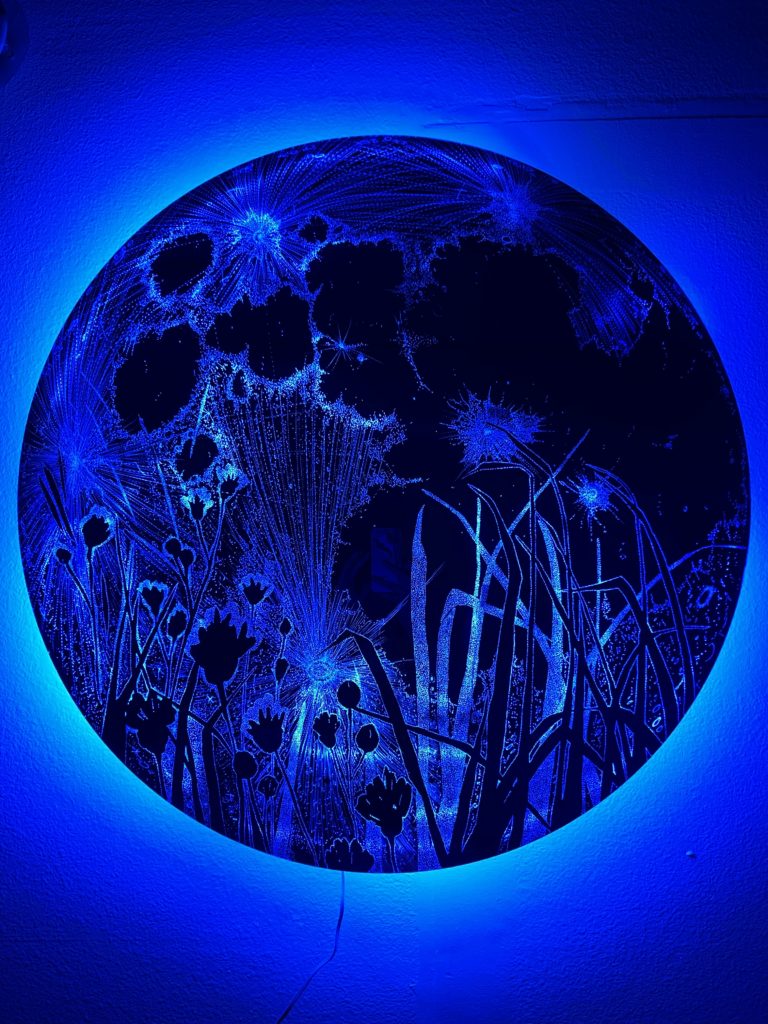 The life-size multimedia sculptures are animated by light effects and convey deeply personal memories for the artist while reflecting on universal themes of memory, empathy, grief, imagination, and storytelling
The Museum of Neon Art is proud to announce Leticia Maldonado: The Storytellers, on display October 8th, 2022 through February 11th, 2023. The opening will take place from 6-8pm on October 8th and is free to the public. This is the first solo museum exhibition for the artist. Maldonado challenges the conventions of sculpture as well as the constraints of the medium of neon through her multimedia works. In this exhibition, life-size sculptural forms made out of neon, plexiglass, found objects, and vintage technology speak to narratives that bind memory, intimacy, and history.
For the past ten years, Leticia Maldonado has honed a unique approach to artmaking which marries an interest in multimedia, as well as her skill at bending intricate, three-dimensional forms out of neon glass. The motifs of the human figure, roses, and birds often repeat and overlap in her work in order to create line-based sculptures that shift depending on the viewer's perspective. In this exhibition, Maldonado mines her biography to offer various perspectives on loss through three sculptural installations. "Leticia Maldonado's work is emblematic of the dynamic work being produced in neon today, as well as the vibrancy of this artform which has been passed down for the past 100 years. Leticia is an incredibly accomplished neon bender, as well as a fascinating artist invested in pushing the limits of her practice," states MONA Executive Director Corrie Siegel.
In "The Grave," a life-size adult figure, constructed of different shades of transparent blue plexiglass, lies on a box the size and shape of a human grave.  A 8mm projector casts found footage into the body. Animated violet and cream waves rendered in neon wash towards the body, representing tides of grief. Above the figure hangs a 4-foot moon created from etched glass. The glass is backlit by neon tubing that shifts in color and shape in an animated sequence.
"The Architect," depicts a child crouched on the floor, with a crayon in hand, poised to draw in a giant book. She is observed by two imaginary friends–a skeletal figure and Raggedy Ann doll– that perch on a shelf above her. Like the figure in "The Grave," the child is constructed out of transparent plexiglass. Neon symbols glow from within the figure, joined by several objects that represent Maldonado's upbringing in Las Vegas including a pack of candy cigarettes and military-style medals made from casino match-books.
"The Telegraph," welcomes the audience to sit and become the third storyteller in the room. The visitor is invited to sit at an empty desk and write down a memory on a blank library book slip. Upon leaving, the visitor is encouraged to take someone else's memory slip, intertwining histories and fostering compassion through anonymous sharing. This tableau is flanked by two starling bird sculptures.The starlings are slightly larger than life and constructed one feather at a time out of plexiglass and lit from within by neon bones. One bird holds a glass key filled with sand, and another bird is filled with flowers. As mimic birds, starlings witness and record, drawing parallels to storytelling, empathy, and memory.
"Every day on this earth, someone sees or experiences something for the last or only time. So, to be anywhere at any time is to be a potential witness of a pivotal memory. Sometimes we share these experiences with others intentionally, and sometimes they come out in an unguarded moment. I'm interested in how memories filter through other life experiences, how a sunset watched through tears can infuse itself into a warm handshake years later. I believe that we all hold elements of a larger story for each other and I wanted to try and make that personal emotional coexistence visible with the sculptures that comprise 'The Storytellers,'" states Leticia Maldonado
Leticia Maldonado (b. 1980) was born in West Covina, California and raised in Las
Vegas, Nevada. She grew up surrounded by the bright, eye-catching signs atop famous casinos such as The Dunes, The Tropicana, The Flamingo, and The Stardust. For years, she has been mentored by neon artist Michael Flechtner, and has swiftly emerged as a rising star. Maldonado has been featured in two museum group exhibits, including She Bends: Women in Neon and Building Bridges. She lives and works  in Los Angeles, California.