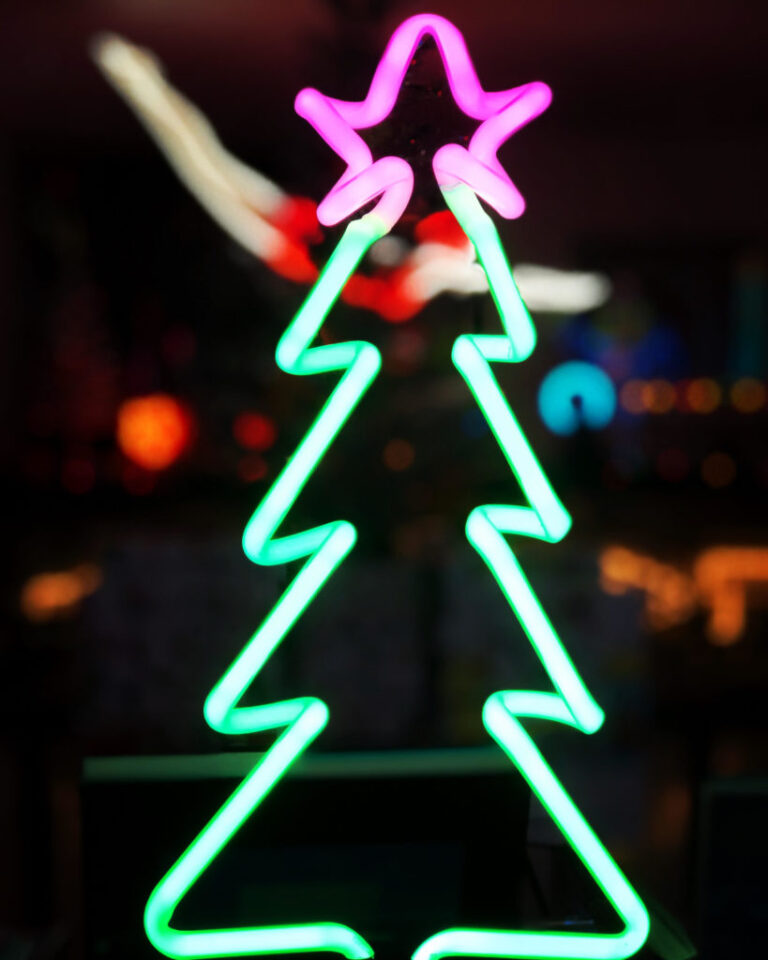 Neon Christmas Tree, Museum of Neon Art
Every holiday season, MONA welcomes guests to our space to enjoy our neon lights, watch our artists light up the fires in our classroom, and enjoy our wide selection of neon-inspired gifts. However, just because our doors our closed, doesn't mean our love for light has to be dimmed!
We've looked around town to find the brightest selection of holiday lights so that you can enjoy a relaxing cruise or walk guided by festive lights in a safe, socially-distanced manner with members of your household. So go ahead — crank up your favorite festive songs, fill up your thermos with hot chocolate, grab some of your favorite holiday treats, and let the bright lights of Southern California transform your drive into an illuminated wonderland!
A Botanical Cruise: Christmas Tree Lane
Christmas Tree Lane is a mile long drive down Santa Rose Street in Alta Dena. 135 Deodar Cedar lanes have lit up the street between Woodbury Avenue and Altadena Drive since 1920! In 1990, Christmas Tree Lane was added to the National Register of Historic Places as a significant landmark that converges the significance of outdoor electric lights and the automobile. Over 50,000 cars travel the .7 mile stretch during the holiday season!
Click here for more information.
Romancing the Lights: Venice Canal Christmas Lights
What's more romantic than an Italian-inspired city in Southern California? An Italian-inspired city in Southern California adorned with festive lights, of course! Although the canals' boat parade has been cancelled, many households are still committed to brightening up the night sky (and our hearts) with their impressive light displays!
The "No Headless-Horseman" Sleepy Hollow Holiday Lights
You'll see lavish displays of festive lights in Torrance's Sleepy Hollow neighborhood…without the spooky headless horseman! Also known as Seaside Ranchos, this little neighborhood attracts thousands of drivers to enjoy beautifully-decorated homes.
Visit the Torrance website for more information.
Glamorous and Opulent Beverly Hills
Lovers of glamour can enjoy the "Visions of Holiday Glamour" installation along Rodeo Drive in Beverly Hills. This year, an impressive 10 mannequin display adorned in faux floral gowns are displayed on runway-style platforms. Make sure to keep an eye out for Santa and his reindeer! You might just run into them if you turn a corner…
Click here for more information.
Guided by the Vintage Neon Glow: CityWalk Neon
For those who enjoy basking in the warm and inviting glow of historic and commercial neon signs, you can enjoy a stroll through Universal CityWalk to enjoy some of MONA's signs that have been on display since 1993! Enjoy the decades-old glow of Steele's Motel, Condone's and other beautiful signs that are part of MONA's collection. It's a piece of MONA outside of MONA's gallery walls!
Click here to find out more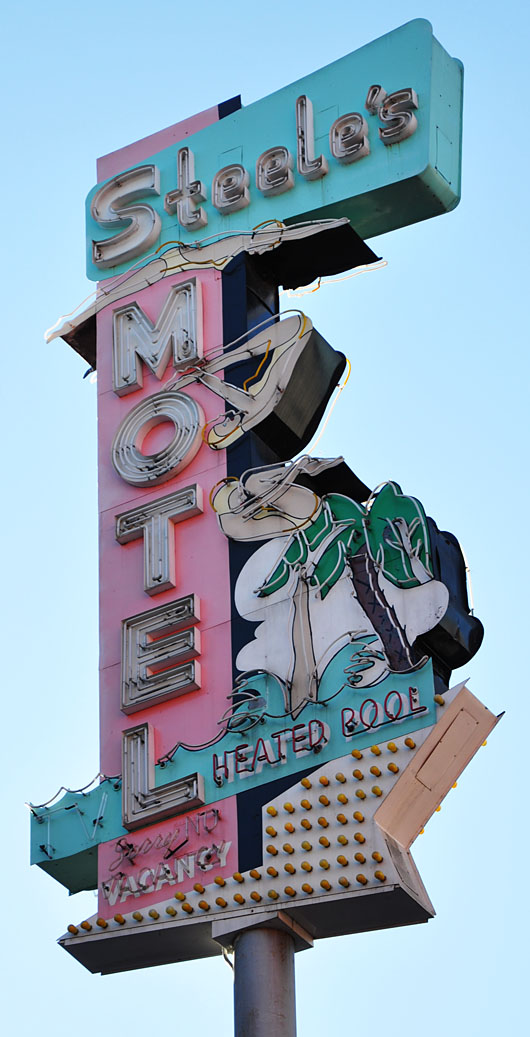 Steele's Motel, CityWalk, CA – Collection of Museum of Neon Art