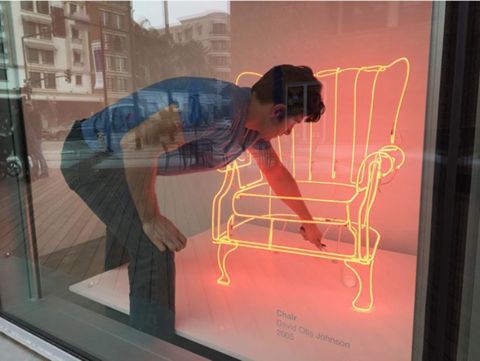 Learn all the skills necessary to design and assemble your own neon sculpture or sign! Under the step-by-step guidance of an experienced teacher and artist, you can complete a project during this 8-week introductory class.
For ages 16 and up. Please Note: Bending is not taught in this course. Materials not included and can range from $100 to higher.
Instructor: David Otis Johnson learned the art of neon in 2002 in Hollywood, FL. He received his MFA from the San Francisco Art Institute in 2004 and has used neon in his artwork since. David has also worked as a fabricator and installer in numerous sign shops and now has a sign business of his own, Leaf Cutter Studio, based in Pasadena, CA. He has exhibited several times at MONA and several other galleries and currently works for MONA as an Exhibition Installer.
8 consecutive Wednesdays
7pm – 10pm
$550 MONA Members (Argon level and higher)
$600 all others
*materials not included
CLICK HERE to sign up!
MONA Member Discount: Enter MONAMEMBER at checkout for $50 off your class! (Only one discount per Argon member per class. Helium and higher levels maximum of 2 discounts per class)
Enrollment deadline is 48 hours before the start of the class. In the event you want to be put on a waiting list for a class or you're trying to sign up past the 48-hour deadline, please call us at 818.696.2149 or email us at info@neonmona.org
Cancellation requests must be received 2 weeks before the start date of the class. We reserve the right to cancel the class due to insufficient enrollment, in which case your tuition will be fully refunded.