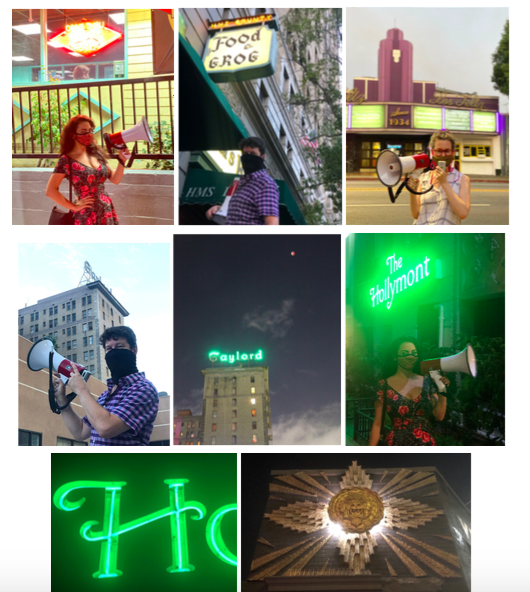 Los Angeles, CA As the weather cools, MONA's knowledgeable tour guides will weave light filled tours through Los Angeles county neighborhoods. Limited to 15 participants, this new initiative "Neon Night Walks" is a way to see Los Angeles in a different light. Masked, socially distanced participants will learn about the history of neon and local neighborhoods in a safe outdoor tour. Special online tour experiences will also be offered for those interested in exploring the city at home. MONA will lead hour and a half long walking tours in Glendale, Koreatown, Hollywood, Downtown LA's famous Broadway Theatre District, Chinatown, and more. Guests will be able to explore the area's architectural history, guided by the soothing glow of its neon signs.
The Neon Night Walks are inspired by MONA's Neon Cruises, an iconic program that MONA has been offering for the last 35 years which takes place on an open top double decker bus. Due to Covid19 health concerns the 2020 season of Neon Cruises were canceled, giving MONA the opportunity to experiment with a shorter guided walks series. The walking tours will provide guests a unique opportunity to see our built environment through a more intimate neighborhood and community lens. Similar to MONA's themed cruises, the walking tours will feature specially themed walks, including a spooky Halloween tour, a festive Holiday neon wonderland walk, and more.
"Our Neon Cruises are the closest many guests will get to LA's outstanding historic neon signs, since they are seated only on the top of a double decker bus. However, there is just as much beautiful neon to see and history to learn on the ground level! We'll be able to see historic and new signs, beautiful storefronts, and gain a new appreciation for all the little elements that contribute to the city," says MONA's Curator of Education and Engagement, Ani Mnatsakanyan.
"MONA's Neon Night Walks decode the fascinating stories of Los Angeles neighborhoods through their neon signs and provide Angeleno's the ability to be tourists in their own city. Once you start reading neighborhoods through light, the signs become secret subtitles that convey layers of stories written across the landscape," says MONA's Executive Director Corrie Siegel.
Ambassador of Light: Koreatown/ Wilshire Center
Guided by Eric Lyxwiller and Corrie Siegel
Walking Tour- Friday, October 23, 6:00-7:30pm
Walking Tour- Saturday, October 24, 6:00-7:30pm
Join Urban Anthropologist and Neon Historian Eric Lynxwiler, MONA Board President, and author of "Spectacular Illumination: Neon 1925-1965", "Wilshire Boulevard: Grand Concourse of Los Angeles" and "Signs of Life: Los Angeles is The City of Neon" and Executive Director of MONA, Corrie Siegel, for a illuminating journey through the history of Wilshire Center/ Koreatown, as centered through the buildings and signs that surround the former Ambassador Hotel. The hour and a half tour will share about old Hollywood, political turmoil, and immigrant success. It  will be a socially distanced walk available for a maximum of 15 guests. Masks are mandatory, walking shoes are encouraged. The walk will cross over several blocks and almost 2 miles of neon wonderment. An adapted zoom presentation will be available to those who would prefer learning from home.
Haunted East Hollywood
Guided by Ani Mnatsakanyan and Corrie Siegel
Walking Tour- Thursday, October 29th, 6:00-7:30
Zoom Online Tour- Friday, October 30th 6:30-7:30
MONA Curator of Education and Engagement Ani Mnatsakanyan and Executive Director Corrie Siegel will shine a light on the haunted, spooky stories of this area as well as it's masterful neon signage in this roughly 2 mile walk. An adapted Zoom tour will also be offered on October 30th to ensure accessibility and serve a larger crowd online.
Chinatown Lights
Guided by Eric Evavold
Walking Tour- Saturday, November 14 6:00-7:30
Eric Evavold is a Los Angeles native and historian who has been leading tours for over 30 years, including themed tours. He is also a Bullocks Wilshire Ambassador and curator of their 90th Anniversary Exhibit and was recently honored for engagement with the Los Angeles American Institute of Architects for touring Bullocks Wilshire.
Tickets for in person tours will be $20 for museum members and $25 for general audiences
Tickets for the zoom tours will be $5 for Museum members and $10 for non members
In person tours will be limited to 15 people, and tickets are available on a first come, first served basis. To ensure the safety of all, guests will be asked to wear masks and maintain distance from people outside of their household/pod during the tour. Visit the MONA webstore to purchase your tickets today! For those that are unable to attend the in-person walking tour, MONA will offer online tours via Zoom. Private tours may also be available upon request.