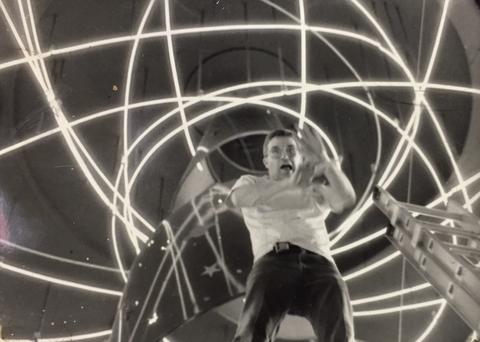 Beginning Hands-On Neon
In the BB&G class, students will learn the basic introductory skills of neon bending, including cutting, welding and bending glass tubing to make block letters. Time will be spent over each of the torches used for neon fabrication: the ribbon burner, the crossfire and the hand torch. Instruction on processing the neon tube will be demonstrated, but the class will focus primarily on learning the bending skills. Students will focus on bending with 10mm clear glass but will also have access to 12mm and 15mm and some phosphor-coated glass for additional experience and practice. For ages 18 and up (we recommend taking the Intro to Neon class first, but it is not required).
Each student can process up to 4 complete units, but the class is more about learning the skill and processes rather than completing finished pieces. Materials and supplies are included in the price of the class (tools will remain the property of the museum). If student goes beyond the set amount of materials, an additional $50 fee will be charged.
Instructor: Lyle George learned neon from a UCLA extension class in the 1980s taught by Bill Needham. Afterwards, he apprenticed with Designer Neon, Signal Hill Neon and other sign shops until he was hired by the Larry Albright Studio. As Larry Albright's assistant through the '90s, he did the neon work for films such as Hudsucker Proxy, Con Air, and Ed Wood, to name a few. Currently, he is fabricating neon work for some well-known contemporary international artists.
8 consecutive Saturdays
9am – 4pm (1-hour lunch break)
$1,600 MONA Members (Argon level and higher)
$1,650 all others
CLICK HERE to sign up!
MONA Member Discount: Enter MONAMEMBER at checkout for $50 off your class! (Only one discount per Argon member per class. Helium and higher levels maximum of 2 discounts per class)
Enrollment deadline is 48 hours before the start of the class. In the event you want to be put on a waiting list for a class or you're trying to sign up past the 48-hour deadline, please call us at 818.696.2149 or email us at info@neonmona.org
Cancellation requests must be received 2 weeks before the start date of the class. We reserve the right to cancel the class due to insufficient enrollment, in which case your tuition will be fully refunded.