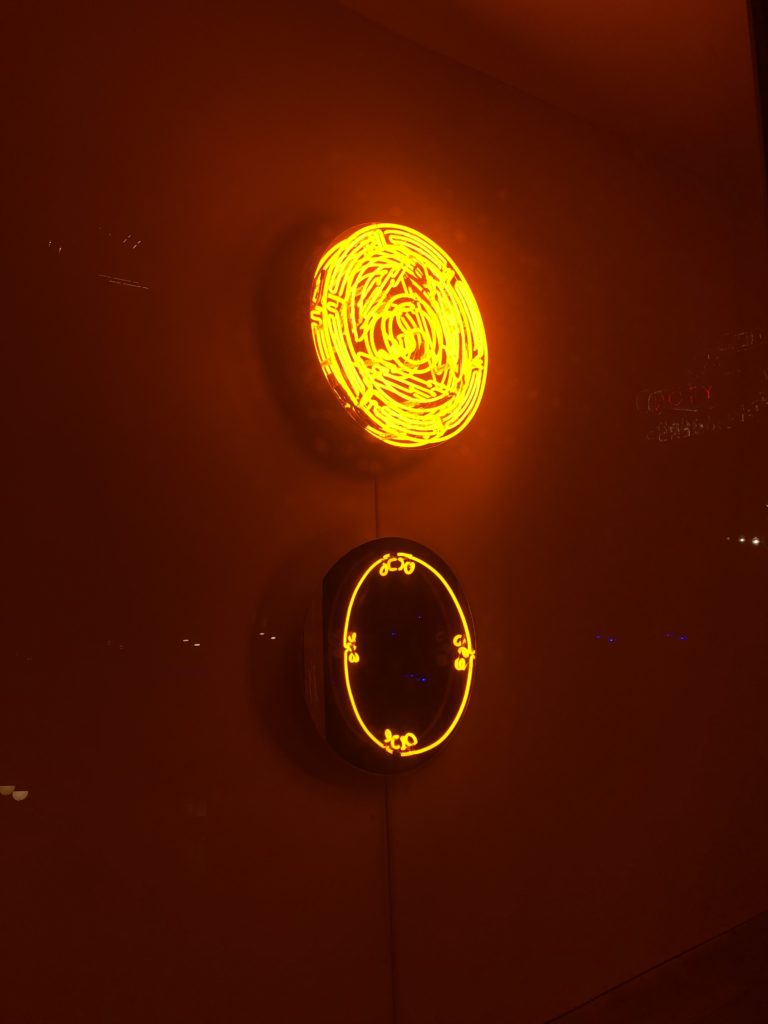 January 26th to April 20th, 2022
The window-based exhibition features two works conceived by artist Gabby Miller, and fabricated by artist Roxy Rose. The works are made from mirror and light, two symbolic materials that can represent clarity of awareness and being in Buddhist cosmologies.
Two golden, glowing, reflective disks represent the front and back side of a melong – a circular mirror which is a symbol of Dzogchen, a Tibetan Buddhist practice.  The melong represents the self-liberating nature of the mind when it is in the state of contemplation. On the obverse side, there is a symbol called a Gankyil, or "Wheel of Joy." In the center of the twirling disk is a symbol made of three blades. It represents perfect unity and the primordial level of existence. In Dzogchen Buddhism, it is believed that all people can recognize this state of existence, which is beyond all duality. 
Artist Gabby Miller, a buddhist practitioner informed by Dzogchen teachings, was inspired by artist, transgender activist, and glassblower Roxy Rose when exploring the concept of existing beyond dualities. These works, designed by Miller and bent by Rose, explore the possibility of liberation beyond duality through the nature and symbolism of light.  Ringed around the rotating work are the syllables HA A HA SHA SA MA, written in the ancient script of Zhangzhung.  Buddhist leader Lama Zopa Rinpoche states, "Just by seeing this mantra, sentient beings move closer to enlightenment and their negative karma is purified, even without their knowledge." By using a medium often associated with advertisement, and often presented without credit to the skilled craftspeople who made it, Miller subverts these expectations, connecting neon instead to concepts of collaboration and enlightenment. The works bring to mind the buddhist concept of a thingle – a visual experience of particles of light spinning or moving as dots and wheels – that is thought to demonstrate the true nature of the universe.
Gabby Miller lives and works in San Francisco and has also lived and worked extensively in Hanoi, Vietnam, where she has organized projects with Nha San Collective and The Queer Forever Festival. She has made work for the Artesterium Project in Tbilisi, Georgia, co-organized the IN:ACT Performance Art Symposium in Hanoi, and exhibited at The Luggage Store, Museum of Capitalism, Yerba Buena Center for the Arts, SoMarts, Aljira Center for Contemporary Art, Boston Center for the Arts, and Random Parts Gallery. Gabby is an educator and he serves on the board of Dhamma Dena Meditation Center, a Vipassana retreat center dedicated to supporting the practice of BIPOC & Queer communities.
Roxy Rose is a contemporary artist and skilled craftsperson who honed the art of neon glassblowing over the last 42 years. Recognized internationally for her craft and artistry, Roxy comes from a long line of neon benders who passed down the craft to her.