NEON CRUISE®
Saturday Nights! JOIN US for a nighttime bus tour of neon signs, movie marquees and permanent installations of contemporary neon art through Downtown and Hollywood.
Developed by MONA beginning in 1985, this narrated tour points out neon's aesthetic dimensions, placing them firmly within the context of 20th century Los Angeles cultural history. From the classic movie marquees of downtown Los Angeles' theater district to the glittering lights of Hollywood and the glowing pagodas of Chinatown, you will see outstanding examples of contemporary neon art as well as innovative electrical advertising on this award-winning tour.
Jump on board the top deck of a convertible British bus and let your knowledgeable guide delight you with history and anecdotes about the urban electric jungle of L.A. Now in its 17th consecutive year, the Neon Cruise begins in the Historic Corridor of Downtown.
---
MEET THE GUIDES:
J. ERIC LYNXWILER is an L.A. native and long-time docent for the Los Angeles Conservancy and Art Deco Society of Los Angeles. As a board member for the Museum of Neon Art, he continues to celebrate LA's neon heritage and guide the museum's famed "Neon Cruise" — now in his eighteenth year! Lynxwiler researched the book "Wilshire Boulevard: Grand Concourse of Los Angeles" and co-authored "Knott's Preserved: From Berry Stand to Theme Park, The History Of Knott's Berry Farm" and "Spectacular Illumination: Los Angeles Neon 1925–1965."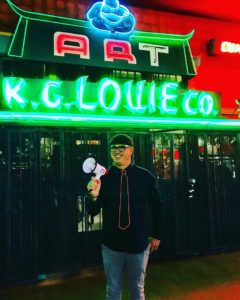 ERIC EVAVOLD, a Los Angeles native, has been interested in Los Angeles history since he was 13. Eric has over 30 years experience as a Los Angeles tour guide.  First volunteering as a docent at Heritage Square and then with the Carroll Ave Restoration Foundation.  He moved on to the Los Angeles Conservancy in the 90's doing the Historic Theatres on Broadway Tour and Union Station Tour.  Currently, Eric has been doing the Special MONA neon cruises. He served as Vice President on the MONA Board and has saved numerous signs for the museum's permanent collection.  As of February 2019, he was named "Honorary Ambassador & Tour Guide" of the historic Bullock's Wilshire